Media, Digital & Film Studies
Taught by passionate and committed staff, students can combine creativity with technical skills to develop original content and apply a critical awareness of existing media interests on one of these courses.
Media, TV and Film (Level 2, Level 3 and HNC/HND)
Media, TV and Film (Level 2, Level 3 and HNC/HND)
MAPA at New College Swindon
Student-made promo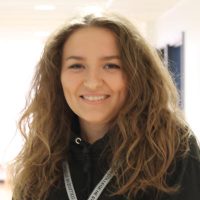 CREATIVE MEDIA PRODUCTION (Film) HND
"I chose to study at New College because of the organisation of the classrooms and how welcoming it was. I like that feedback is given throughout your course and you're given plenty of help when needed. I like the HE rooms because they're a quiet area to work on assignments."
A Levels in Film Studies, Media Studies, English and French
"Looking back it was the perfect transition betwen school and university and gave me a group of friends I never thought I'd have. At the moment I'm a senior journalist working for Newsbeat at BBC Radio 1. I'm the music reporter so I get to interview lots of bands, artists, go to festivals and report on music trends within the industry. I also do some newsreading too!" – Senior Journalist at BBC Radio 1
Creative Digital Media Production as part of her study programme
"I'm really impressed with the way the College has developed the study areas, there's now a specific A Level study room and a HE Centre. There's also access to a lot of great software including the Adobe Suite, which really helps with my Media course studies. When I finish College, I plan to study Public Relations at university in London."
Fill in the form and we'll call you back!